■ Entry materials into database





Entry materials in the database directly.


Upload your materials into the database.
You can sort materials into some folders and preview those files.
So, it is unnecessary that you look up where the material is.
■ Preview





Check a content easily by preview function


It is possible to check the total balance of images, sounds and speed of telop with a preview function.



■ Setting and delivering timetables of contents





CYBER signage is availble to set a timetable by each minute.


The schedule is created by only with drag-and-drop of contents on the timetable. Of course, it is possible to schedule timetables weekly or monthly.
The preview function helps a content be found quickly.
CYBER Signage includes a function that can identify the delivery situation of the schedule at a glance.


---
New features is adding continuing!
'Stand-alone hybrid function' which can be also use offline operation
has been installed in 'CYBER Signage'.
'CYBER Signage' is newly added the function that can be operate in stand-alone digital signage terminal.
The signage that is not connected to the Internet displays contents according to the schedule in the external medium such as a SD card.
The screen of the Control center is the same as normal, so you can use creatively depending on your communication environment. Therefore you can operate the full-scale digital signage anywhere!
In addition, you can also operate as a backup in case of network disconnect.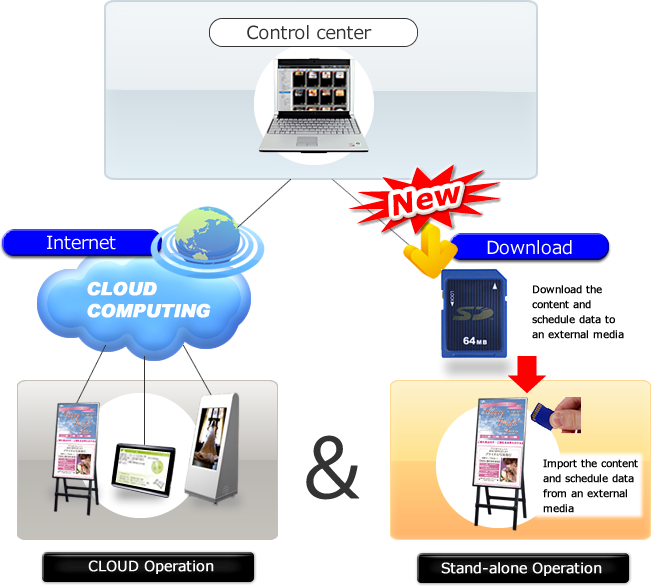 You can operate the digital signage system in the cloud computing.
If you deliver the schedule from the control center, you can control all kinds of signage terminal around the wolrd.
The contents and schedules is imported to the signage terminal using an external medium.
The digital signage can be operated in the place that is not connected to the Internet.